I didn't record this and I haven't heard it. Just a copy/paste job...
Link.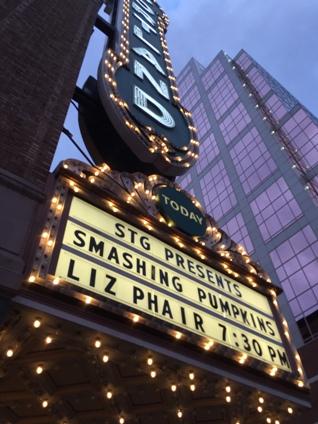 Smashing Pumpkins
In Plainsong: An Acoustic-Electro Evening
Arlene Schnitzer Concert Hall
Portland, Oregon, USA, Meddle Earth
March 22, 2016
Billy Corgan (vocals, guitars, keyboards)
Jeff Schroeder (guitar)
Katie Cole (bass, vocals)
Sierra Swan (keyboards, vocals)
Jimmy Chamberlin (drums)
Source Info:
Recorder: Zoom Q3HD
Audio Settings: 24-bit, 48 kHz stereo PCM lossless
Storage Media: Kingston 32 GB ultimateX 100X SDHC
Batteries: Energizer Ultimate Lithium AA (two)
Recorded By: Meddle Earth
Transfer: SDHC (.mov file) > SDHC reader > HDD
Audacity (.mov > .wav) > CD Wave (splits) > dBpoweramp (.flac, tags)
Original recording, volume increase, no EQ, some fades
Output Specs (full details included in specs.txt file):
24-bit 48 kHz stereo lossless audio split into tracks, FLAC
TLH checksums verified (ffp, md5 files included)
Folder: Smashing Pumpkins 2016-03-22 Portland Oregon USA Meddle Earth (master) (24bit48kHz) (FLAC)
Size: 1.46 GB
Duration: 2 hr 15 min 22 sec
Setlist:
01 intro for video-sync
02 Cardinal Rule
03 Stumbleine
04 Tonight, Tonight
05 World's Fair [Corgan]
06 Space Oddity [Bowie cover]
07 Thirty-Three
08 Jesus, I / Mary Star of the Sea [Zwan]
09 Billy talking to the Portland people
10 Mayonaise
11 Soma
12 Rocket
13 Spaceboy
14 Today
15 Whir[*]
16 Disarm
17 Sorrows (In Blue) [Corgan]
18 Eye
19 Saturnine[*]
20 band introductions
21 Identify [written by Corgan]
22 1979
23 Stand Inside Your Love
24 Pinwheels
25 Lily (My One and Only)
26 Malibu [Hole cover]
27 Spaniards[*]
28 encore break
29 Angie [Stones cover]
30 Amarinthine[*]
31 outro
* 1st-time song has ever been played live in concert, allegedly.
http://livepeace.org/artists/SP_PDX_2016/info.html
https://www.youtube.com/watch?v=aL2No8EPKbw
This recording is being entered into the public domain,
is not for sale, has not been for sale,
is not and has not been involved in commerce.
Band Link:
http://www.smashingpumpkinsnexus.com